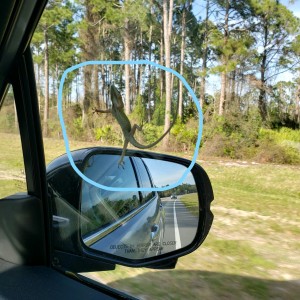 Sorry it's been so long since my last post.  I have no excuse, not even the current COVID-19 is an excuse for not sharing humorous stories.  So here's one that happened before we were "locked  down" here in Florida.
I have been in Palm Coast now since October 19th.  I saw my first snake 3 days after I arrived.  I'm not a snake or bug person so it's going to be awhile before I am close to comfortable with the different species down here but I am not panicking just yet.  The geckos down here are most interesting.  They come in various shapes and sizes and all different colors.   When they want to make themselves seem larger, they blow up their necks and that part of their body is a beautiful shade of orange.  Weird at best.
Again, before the quarantine, Jeff and I were out getting groceries.  I was driving, Jeff was in the passenger seat.  I look over and clinging to his window is a fairly large gecko.  At this point I am traveling at a speed in excess of 50 miles an hour (quite legal where I was driving) and this pour animal was using all of his energy to hang on with his suction hands and feet (I don't know what they call a gecko's extremities).  The brain, however, in these creatures must be small because he held his head out catching the very strong breeze generated from the speed of the car.  Jeff and I were just placing our bets as to how long he could hold on.  We were moments away from turning into our community so we had high hopes he was coming home with us.
Then tragedy struck.  He must have coughed or farted or something, losing his focus and yes losing his grip.  There one minute, gone the next at 50 miles an hour.